A new generation of musicians has emerged in the ever-changing music business, changing how we view music and its influence on culture. Bad Bunny, a Puerto Rican superstar who has captivated the globe with his distinctive sound and alluring character, is one of the ground-breaking musicians.
What is Bad Bunny's net worth is a question that a lot of people have as his fame grows. This article will discuss these essential aspects of Bad Bunny's career and net worth. Without any ado, let's begin with our article.
Who is Bad Bunny?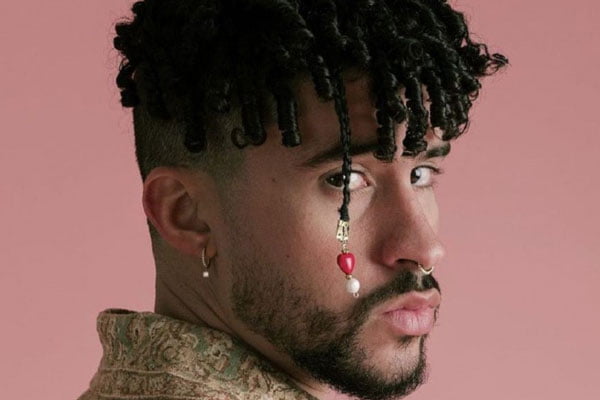 | | |
| --- | --- |
| Full Name | Benito Antonio Martnez Ocasio |
| Professional Name | Bad Bunny |
| Date of Birth | 10-Mar-94 |
| Birthplace | Almirante Sur, Puerto Rico |
| Age | 29 years |
| Nationality | American, Puerto Rican |
| Ethnicity | NA |
| Gender | Male |
| Sexuality | Heterosexual |
| Religion | Catholic |
| Zodiac Sign | Pisces |
| Marital Status | Unmarried |
| Height | 5 Feet 10 inches |
| Weight | 75 Kg |
| Profession | Rapper, Singer, Songwriter, Record Producer |
| Net Worth | $88 Million |
Bad Bunny, whose actual name is Benito Antonio Martnez Ocasio, is a Puerto Rican rapper, singer, songwriter, and record producer born on 10 March 1994.
He was raised in Vega Baja, Puerto Rico's Almirante Sur neighborhood. His mother is a retired teacher, and his father was a truck driver. Pop ballads, salsa, and merengue were among the musical styles his parents frequently listened to. Bernie and Bysael are his younger brothers. Benito has said I wasn't the young person who got embroiled in the streets. I enjoyed spending time with my family at home.
He used to visit church every Sunday with his mother when he was a teen and sang in the church choir until he was thirteen years old. After leaving the chorus, he became interested in the musicians he heard on the radio, especially Daddy Yankee and Héctor Lavoe.
His music contains a variety of additional influences from other genres, although it is usually classified as Latin trap and reggaeton. In 2016, he rose to fame with his song "Diles," which helped him crack the deal with Hear This Music.
His collaborations with other famous artists like Farruko, Karol G, Ozuna, J Balvin, and others helped him gain success during the following years with songs like "Soy Peor" and others.
How Much is Bad Bunny's Net Worth?
Benito is a rapper, singer, and composer from Puerto Rico with a $88 million wealth. In a very short period of time, he has enjoyed a stratospheric climb to stardom. 2018's Christmas Eve saw the release of his debut album.
With 8 billion streams of his tracks in 2020, Benito was the most streamed musician globally. 18.5 billion times his songs were streamed in 2022. With an estimated $230 million in gross revenue, his globe tour was the highest-earning tour of any musical act worldwide in the same year.
Bad Bunny's YouTube channel has 46 million followers and more than 30 billion video views as of this writing. Although he has dabbled in other genres, including rock bachata, he is also known for his unique sense of style and genre.
Bunny's Net Worth Trend from 2018 to 2023
| | |
| --- | --- |
| Years | Net Worth |
| 2018 | $11 million |
| 2019 | $20 million |
| 2020 | $30 million |
| 2021 | $38 million |
| 2022 | $62 million |
| 2023 | $88 million |
Career
Rise of his career
Since the age of 14, Benito has been writing songs and developing his interpretations. In 2013, he started sharing his songs like "Get" on SoundCloud, "Tentación," which was released in 2014, and "Just Let Me Know," which was released in 2015.
His song "Diles" caught the attention of DJ Luian from SoundCloud in 2016, which helped him to get signed to his record label, Hear This Music. His song "Soy Peor" peaked at 19 on the Hot Latin Songs list.
The May 2017 song "Ahora Me Llama" by Bad Bunny and Karol G peaked at number 10 on the Billboard. It was one of the top Latin songs in 2017, according to "Alt. Latino's Favorites: The Songs of 2017"
View this post on Instagram
Collaboration with Some Great Artists
The "I Like It" song was a collaboration between J Balvin, Bad Bunny, and American rapper Cardi B, which was made public in May 2018. Benito also made a collaboration with Drake's song "Mia," which was made public on 11 October.
Christmas Eve 2018 saw the release of Benoti's debut album, X 100pre, via Rimas Entertainment. Based on five reviews, X 100pre received a Metacritic score of 84 out of 100. Alexis Alexis Petridis of The Guardian commended the "off-kilter creativity" of Bad Bunny.
YHLQMDLG became the highest-charting all-Spanish album when it debuted at number two on the US Billboard 200. The album received favorable reviews, with particular attention to its musical Variety.
His Other Ventures
According to a report, the rapper is also a WWE wrestler who receives an estimated $100,000 for each performance in the ring.
The gifted individual is also an actor. His most recent role was in the Brad Pitt movie Bullet Train, which, according to Variety, grossed $231 million in worldwide ticket sales.
The rapper debuted as a guest actor on Netflix's Narcos: Mexico. Additionally, he will begin filming El Muerto in August, in which he will play a wrestler who has superhuman abilities.
Awards and Achievements
Benito earned numerous accolades and nominations, including three Grammy Awards, nine Latin Grammy Awards, ten Billboard Music Awards, two MTV Video Music Awards, six American Music Awards, and twenty-two Premios Juventud, among others.
His Investments
Bad Bunny spent $8.8 million on a Hollywood Hills house in January 2023. The 7,300-square-foot home has eight bedrooms and seven bathrooms. In total, Benito has four expensive cars.
He has a Rolls Royce Dawn, a Mercedes G-Wagon, a BMW M4, and a Bugatti Chiron. These pricey cars are his cherished belongings, and you can often find him driving any of them around town.
Bad Bunny's Philanthropic Side
The rapper is no stranger to charitable deeds. He has used his notoriety for good, this time helping a team construct a home for the family of Mayah Nicole Zamora, one of the survivors of the horrifying shooting in Uvalde, Texas, in May.
In order to help Hispanic communities in the United States and Puerto Rico, Benito and his Good Bunny Foundation established the $500,000 Deja Tu Huella Fund. This initiative will grant $25,000 to 20 people making a difference in their communities.
Frequently Asked Questions
1. What is Bad Bunny's Age?
As of 2023, he is 29 years old.
2. What is the Actual Name of Bad Bunny?
His actual name is Benito Antonio Martnez Ocasio.
3. What is the Net Worth of Bad Bunny?
As per the reports, he made an estimated net worth of around $88 million.
Wrapping Up
The rise of Bad Bunny from Soundcloud uploads to global fame is a tribute to his ability, hard ethic, and willpower. With each new project and release, he keeps redefining what it means to be an artist in the contemporary world. His influence on the sector broadens as his wealth increases.