Corinna Kopf, a prominent social media personality and influencer, has made a name for herself in the digital realm. With her captivating presence and engaging content, she has amassed a significant following across various platforms.
Beyond her online presence, Kopf has also ventured into entrepreneurial endeavors, contributing to her growing net worth, which is estimated to be around $12 million.
In this article, we'll delve deep into her professional life, exploring more about her earnings.
Who is Corinna Kopf?
Born on 1 December 1995, Kopf is a social media personality, model, content creator, and internet influencer. She was born and raised in Palatine, Illinois, United States.
She gained popularity through various platforms, including Instagram, Twitch, Youtube, OnlyFans, and Facebook gaming. Kopf is known for her beauty, lifestyle, and vlog content.
Throughout her career, she collaborated with various other popular Youtubers and influencers. Kopf has a strong fan base on Instagram, where she used to share photos and updates about her life.
On Youtube, she used to share vlogs, challenges, and lifestyle videos. Kopf's engaging personality and online presence have garnered her a large fan following and made her one of the prominent figures in social media.
What is Corinna Kopf's Net Worth?
Kopf has a net worth of $12 million. Most of his net worth comes from Twitch streaming, Youtube videos, and OnlyFans. She is also involved in collaboration with various brands. Kopf also ventured into entrepreneurship, launching her own merchandise and clothing line.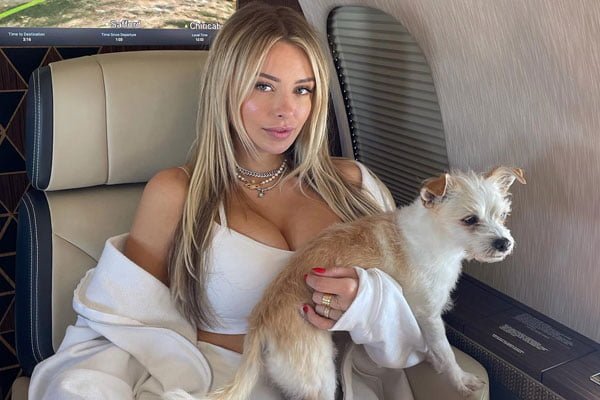 Earned $4 Million Monthly on OnlyFans
In August 2021, she also revealed her earnings from OnlyFans. Kopf said she made around $4 million in one month and became one of the highest-earning personalities on OnlyFans. However, the news was unverified.
So it is difficult to say whether the claimed number is true or not. During an interview on Logan Paul's impulsive podcast, Kopf revealed that after joining OnlyFans, she was earning over $1 million monthly.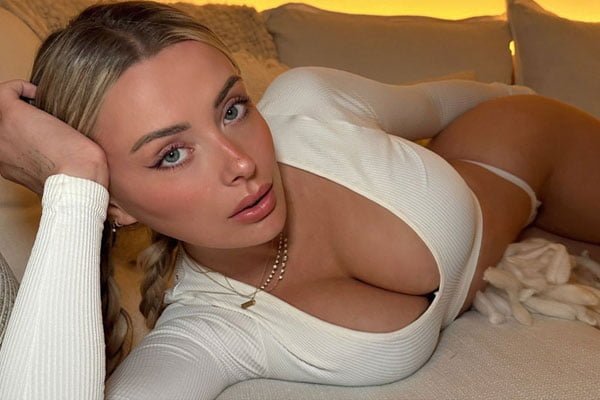 Career
In 2012, she began posting her photos and videos on her Instagram channel. With more than 6 million followers, she has a massive fanbase on Instagram. The 2014 Spring Awakening Music Festival is one of the most popular posts on her account.
it's NNN 😈 https://t.co/V0ZnSDfmda pic.twitter.com/Z3E2Gq5vyD

— pouty girl (@CorinnaKopf) November 2, 2022
Later, she went on Twitter, where he garnered thousands of followers in a short time.
Youtube Stardom
Once, she polled her Twitter channel asking her fans if they like to see her on Youtube.
Most of her fans said yes, and then she decided to create a Youtube channel. Her first appearance on Youtube was on a prank channel known as Second Class.
Kopf rose to fame when she joined popular Youtubers David Dobrik and Liza Koshy as one of the members of the Vlog Squad. In 2021, she went for a solo Youtube channel and began posting content on it covering topics of lifestyle, beauty, and fashion.
Describing her lip injection experience is the most popular video on her channel. Currently, she has garnered over 1 million subscribers with her engaging content and personality.
Apart from social media career, she is also a Fortnite gamer with a streaming deal with Facebook gaming.
Frequently Asked Questions
1. What is the Net Worth of Corinna Kopf?
Kopf's net worth is estimated to be around $12 million.
2.What is Corinna Kopf's Age?
She is 27 years old.
3. How much does Corinna Kopf Earn from OnlyFans?
A report came out that Kopf made around $4 million in one month from her OnlyFans account. But during a podcast, she claimed that she was making about $1 million monthly.
4. Who is Corinna Kopf's Boyfriend?
Kopf is in a relationship with Sammy Wilk. In December 2022, she confirmed her relationship on Instagram as they were spotted together in a series of photos kissing and hugging each other.
Wrapping Up
Corinna Kopf's journey from a Youtube personality to a successful OnlyFans influencer exemplifies the potential for financial success in the digital era. Her captivating online presence and engaging content have propelled her net worth to impressive heights.
As she continues to dominate and evolve, Kopf's influence and wealth are set to grow, solidifying her position as a prominent figure in the digital world.