The wedding dress is an exciting part of the wedding planning process. When you walk into your appointment with a clear picture of your dream gown in mind, you can better communicate it to your bridal consultant.
Know Your Body Type
One of the most important things to consider when you shop wedding dresses around is your body type. Although you may have a specific idea of what your wedding gown will look like, the fit, fabric, neckline, and silhouette all affect how it looks on you. Narrowing down your options to those silhouettes that complement your figure is an excellent place to start, but keeping an open mind while searching is important. It's possible that the gown you end up with is not what you expected, but if it makes you feel confident and beautiful, that's all that matters.
You can determine your body shape by measuring four parts of your body: shoulders, bust, waist, and hips. While these are general guidelines, it's not unusual for brides to have features of more than one of these shapes. For example, you're likely an hourglass figure if you have wider hips but a narrower waist and smaller shoulders. A dress with a trumpet or mermaid skirt that flares out from the hips/mid-thigh is ideal for this body type, balancing your figure and making you look stunning.
Know Your Budget
The dress is just one of many wedding-related expenses that couples must consider. So it's best to determine a budget before going dress shopping. Whether shopping alone or with your future spouse, figuring out what you can afford will help avoid heartbreak when trying on gowns outside your price range.
When setting your budget, be sure to include alterations, which are usually needed for bridal dresses. It's also important to consider other costs associated with your wedding, such as flowers and food. It's crucial to figure out who is paying for your gown before making appointments and what your dress budget is. It's also helpful to have an idea of the theme and style of your wedding so that you can narrow down the dress selections based on your vision.
Before you search for your dream gown, consider the dresses you already have in your closet that look good on you. Think about the clothing you love to wear and what they have in common, such as ruching or flared sleeves. It's also good to ask for referrals from married friends and check online reviews to find reputable bridal shops with stylists who offer various styles. Aim to start your appointment six to nine months before the big day, as it can take four or more months for a dress to be made and two more months for alterations.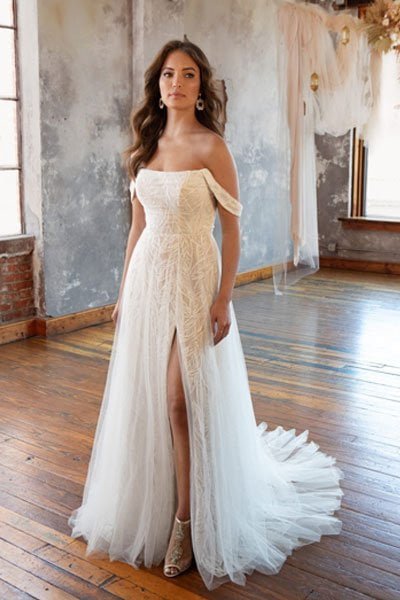 Know Your Style
Whether you've been dreaming of your wedding dress since you were five or just decided to shop because your future spouse's mother is bugging you, it's helpful to go into your appointment with an idea of what styles you want to try. This can help your bridal consultant find gowns faster and ensure they don't waste your time with a style that won't fit you or your budget.
To narrow your options, try to identify three descriptive words that capture your style (e.g., "romantic, classic, and comfortable" or "glamorous, modern, and unique"). This will help you keep your goals in mind as you select dresses. You can also use your style to determine the fabric and details you're interested in trying on. Do you want a silky, satin feel or something more natural? Are you looking to accentuate your neckline with a V-neck or create an eye-catching asymmetrical look? Do you prefer a dress with sleeves or a sleeveless silhouette?
You envision walking down the aisle and dancing your first dance in the perfect dress. It's an exhilarating experience, and choosing the gown that best reflects you is crucial.
Know Your Venue
The venue you choose will greatly impact how your wedding looks and feels. It should be a reflection of who you are as a couple. A great way to decide on the style of your venue is by creating a wedding mood board. This can help you narrow your search and find the perfect dress to fit your vision. Once you have your style and budget established, you can start shopping. Beginning your dress search about six months before your wedding date is recommended. This gives you enough time to find the perfect gown and make the necessary alterations.
The bridal consultant will ask questions about your wedding day and style during your appointment. She will then show you dresses that best complement your body type and the overall look of your wedding. The gowns may not look like your dream dress, but keep an open mind and be patient! It takes a while to find your perfect dress.
Knowing how long your wedding venue will be available for your use is also a good idea. This will ensure you can book all the vendors you want and have plenty of time to decorate and set up. It is also important to note if the venue requires a damage deposit and, if so, how much it is and how you will be refunded.