Joe Pickett is one of the most-watched crime series on Paramount +. In 2021, the series came into the streaming application with ten episodes. These ten episodes of the first season generated massive views from the audience. So, the audience is waiting for all the updates of the second season.
Surprisingly, on IMDB, the show got a 7.7 rating. Each episode of this series is exciting, and the actor's performances are spectacular every season. If you are also a fan of Joe Pickett and waiting for the season 2 updates, read the article until it ends. 
Joe Pickett's Quick Info
Total Number of Seasons
1
Total Number of Episodes
10 episodes
First Episode Date
06-Dec-21
Last Episode Date
27-Dec-21
Genre
Crime Drama
Neo-Western
Country of Origin
US
Language
English
Writer
Drew Dowdle
Director
Drew Dowdle
John Erick Dowdle
Producer
Linda Rogers-Ambury
Executive Producers
John Erick Dowdle
CJ Box
Lucy Fisher
Liz Warner
Katherine Pope
Douglas Wick
Drew Dowdle
Run Time
50 minute
Streaming app
Paramount +
Will there be a Season 2 of Joe Pickett?
After the successful streaming of Joe Pickett Season 1, the fans are excited about Season 2. The announcement about the second season was on 9 Feb 2022. Paramount + has renewed the series for a second season. However, the release date is still not revealed. So, the fans need to wait until the channel confirms the series's release date.
What are the Expectations from Season 2 of Joe Pickett
The renewal of season 1 is confirmed; still, the dates are in a tight wrap. However, we can make a few guesses about season 2. The season took an interesting part at the end when the truck tried to kill Joe, and the people behind this conspiracy remained unsolved. The second season can mainly focus on the sidekick of Joe Thompson, and it will discover the truth behind the hunter's death and the disappearance of young Arapaho Women. 
Expected Cast for Joe Pickett Season 2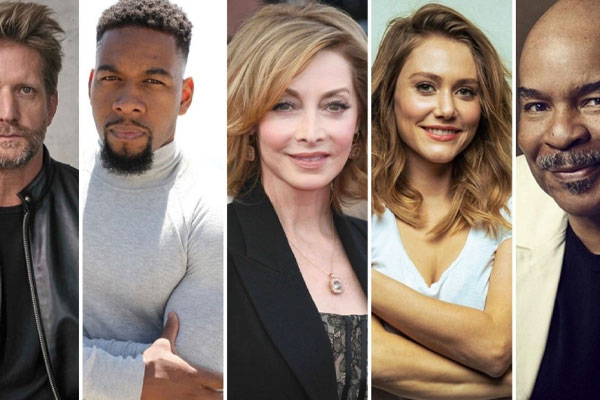 As expected, Joe Pickett's Season 2 will have the same cast as Season 1. So, let's see the complete list of the cast and the characters they played in the series. 
| | |
| --- | --- |
| Casts | Characters |
| Michael Dorman | Joe Pickett |
| Julianna Guill | Marybeth Pickett |
| Sharon Lawrence | Missy |
| Skywalker Hughes | Sheridan Pickett |
| Vivienne Guynn | April Keeley |
| Chad Rook | Deputy McLanahan |
| Mustafa Speaks | Nate Rimanowoski |
| Sebastian Bordeaux | Young Joe Pickett |
| Aadila Dosani | Cricket Ludlow |
| Kamryn Pilva | Lucy Pickett |
| Dan McDougall | Bartender |
| Brendan Fletcher | Arlen Scarlett |
| Patrick Gallagher | Sherif Barnum |
| Cassie Dzienny | Sadie Pickett |
| Roger LeBlanc | Hank Scarlett |
| Oliver Mandelcorn | Young Victor Pickett |
| David Alan Grier | Varn Dunnegan |
Apart from season 1, some new actor names are added to the list, such as Alex Breaux, Chris Gauthier, T'áncháy Redvers, John Ralston, Sean Wei Mah, Patrick Gallagher and Aaron Dean Eisenberg.
What will be the Plot for Season 2?
In Joe Pickett Season 1, you can see Marybeth as shot and Sheridan nowhere. As Missy could not tell where Sheridan went, Joe instructed Lucy and April to prepare to evacuate the house. You can see them on a picnic and comfort her daughter. Apart from that, he also said that Willie is alive and she could be the litter's mother.
He also praised himself for keeping the babies safe for a long time and instructed Sheridan to take the babies to a safer place. Marybeth created an emotional moment by saying that no kid should suffer the same situation that she did.
The final episode finished the season with a group of songs and Joe and Sheridan took the weasel to any Indian Reservation. The snuggle was often known as snuggle bear and Victor.
Just like season 1, the second season will consist of two different narrative parts. The first part will feature Joe and Marybeth finding the dear hunter who, surprisingly, is dressed like an Elk.
Secondly, once the Arapaho woman called Marisa got missing, Marybeth started finding her and ended with a severe injury. After some days, Joe discovered a new sidekick who did not like a horse, but his method of capturing drunk elk is often conventional.
Is there any Trailer for Joe Pickett Season 2?
There is no official trailer for the upcoming season released by the makers yet. But if you're new to the series, you may enjoy watching the trailer for its first season. Till then, we're trying to grasp information regarding when the trailer for season 2 is going to release. We'll be the first to inform you as soon as it will come out.
Frequently Asked Questions
1. When do New Episodes of Joe Pickett Come Out?
On 9 February 2022, it has been announced that the series will renew for a second season and some episodes will be added. But they haven't announced any official release date of it.
2. Will there be Season 3 for Joe Pickett?
Season 1 of Joe Pickett got massive popularity and has ten episodes. Since the makers have announced season 2, the release date is still not confirmed. The reveal of season 3 depends on the overview and eating of season 2.
3. Is Joe Pickett Based on a True Story?
Pickett is the main character in the series. It is a fictional character, which is based on the fundamental nature of Cody.
4. Where can I Watch the Episodes of Joe Pickett?
You can easily stream the series from Roku Channel, Paramount Plus, Spectrum TV, Prime Video, Vudu, or Apple TV. The first season only has ten episodes, and season 2 is not yet been released.
Conclusion
Joe Pickett no doubt has an exciting storyline with some mesmerizing characters. Once The first season was released, it got immense appreciation from the audience and created a solid fanbase.
In one month, it became the most-watched original show on the platform. The report of season 2 is in, sir, but the date is not confirmed. There are no further updates about season 2 from the director and producer. So, an update about Joe Pickett Season 2 is expected soon from its makers.