Lil Durk is a 29-year-old Chicago, Illinois, U.S based rapper. This article is everything about Who is he? What about his early life? What about his career and about Lil Durk's net worth?
We'll also talk about the legal issues he has faced in his life.
Who Is Lil Durk?
On October 19, 1992, a world-famous American rapper and singer were born Durk Derrick Banks, professionally known as Lil Durk. He is one of the lead members and founders of the Only The Family (OTF) record label.
Durk began gaining popularity after releasing his Signed to the Streets mixtape series. Remember My Name was the name of his debut album, which was released in 2015.
In March 2018, Durk released his independent mixtape, Just Cause Y'all Waited. After the release, he signed a deal with Alamo Records.
As a lead artist, he made his first appearance in April 2020; it was his fifth studio album, Just Cause Y'all Waited for 2, on the Billboard Hot 100.
He had various famous singles, such as "3 Headed Goat", which featured Polo G and Lil Baby. In the 2020 singles "Backdoor" and "The Voice", he featured Drake. After that, various singles such as "Back in Blood" and "Laugh Now Cry Later", Pooh Shiesty's songs and his LPs became great hits.
Basic Information About Him
| | |
| --- | --- |
| Real name | Durk Derrick Banks |
| Professional name | Lil Durk |
| Date of Birth | 19-Oct-92 |
| Age | 30 years |
| Birthplace | Englewood, Chicago, illinois, United States |
| Nationality | American |
| Ethnicity | African-American |
| Gender | Male |
| Sexuality | Straight |
| Religion | Muslim |
| Zodiac Sign | Libra |
| Marital Status | Engaged |
| Partner | India Royale |
| Profession | American Rapper and singer |
| Net Worth | $8 million |
Body Stats
| | |
| --- | --- |
| Height in m | 1.75 m |
| Height in cm | 175 cm |
| Height in inches | 5 Feet 7 Inches |
| Weight in Kg | 72 kg |
| Weight in pounds | 158 pound |
| Hair colour | Bleach blonde |
| Eye colour | Black |
Family
Father's name
Dontay Banks
Mother's name
Not known
Siblings
DTHANG
Children
Zayden Banks
Du'mier Banks
Willow Banks
Skyler Banks
Bella Banks
Angelo Banks
Educational Background
| | |
| --- | --- |
| School name | Paul Robeson High School |
| University name | NA |
| Qualifications | High School Dropout |
Social Media Accounts
Early Life
Durk was born on the south side of Chicago, Illinois. He grew up with many responsibilities because his father, Dontay Banks, was imprisoned when he was only seven months old. So being an elder brother in the family, all the responsibilities were on him.
During an interview with a magazine, he even mentioned that his childhood was horrible, and the violent neighborhood profoundly impacted him and his family.
In his early days, there were times when he didn't have food to eat and sometimes not having proper clothes to wear. He started his career through social media and the Youtube channel Myspace. After seeing his increasing online fan base, he decided to continue his career as a rapper.
Banks was the only person who took Durk's rapping career seriously. But Durk wanted to join the Black Disciples, a well-known street gang in Chicago. After he joined the street gang, he began to get in trouble because of the gun charge. He got into bad company at a very young age which caused him trouble with the law.
According to court records, Durk pleaded guilty to the unauthorized use of a weapon. The information about his mother is unknown; even the mother's name is unknown.
Career
Durk has a great career as a rapper, and he released various singles and albums that were great hits worldwide. On 20 April 2015, an announcement was made by him that Remember My Name's release date was delayed. The date was changed from 12 May to 2 June.
According to the planned schedule, Durk's album, Remember My Name, was released on 2 June 2015. The album was a success; on the Billboard top 200, it was at number fourteen in its first week, it sold around 24,000 copies, and the remainder of the counts were through streaming and track sales.
On 22 July 2016, Durk released his second album, named Lil Durk 2X. Before announcing the album, he released the first single in May, "She Just Wanna", featuring Ty Dolla $ign. Other singles from the album were "Money Walk", featuring Yo Gotti, and "True".
This album could have been better than the previous one, but still, it was at number twenty-nine on the Billboard Top 200. This was not at its best compared to the last album, Remember My Name.
On 2 August 2019, Durk released his fourth studio album. It was a sequel to this preview 2017 mixtape Love Songs 4 the Streets. This album features guest appearances from artists such as 21 Savage, A Boogie with King Von, Meek Mill, da Hoodie, Key Glock, and Nicki Minaj.
The album did a record-breaking performance in the United States as the album was number four on the Billboard Top 200. Around May 8, 2020, Durk released his fifth album, which contains his second highest-charting song, "3 Headed Goat". This album was also a hit like any other album of Durk.
Later, he released "Stay Down" on 30 October 2020, which features the famous American singer 6lack and American rapper Young Thug. On 21 December 2020, he released his third and final single, "Backdoor", along with the video.
Lil Durk's Net Worth
Durk is a world-famous American rapper with an estimated net worth of $8 million. The record label Only the Family, also known as OTF, was founded by him. He also had a record deal with Def Jam through his mixtape series "Signed to the Streets" in 2013.
What About Durk's Upcoming Projects
Due to some of his personal reasons, Durk pushed back the release of his new album. He also mentioned the tracks in his album, including guest appearances from Summer Walker, Morgan Wallen, Future and Gunna.
In recent times, He also mentioned an incident where he struck his head with an explosive pyrotechnic. The incident happened at the Lollapalooza music festival in Chicago, where he suffered several injuries on his face and right eye. Therefore, he needs some time to recover from his injuries, and he will continue shooting after recovery.
Personal Life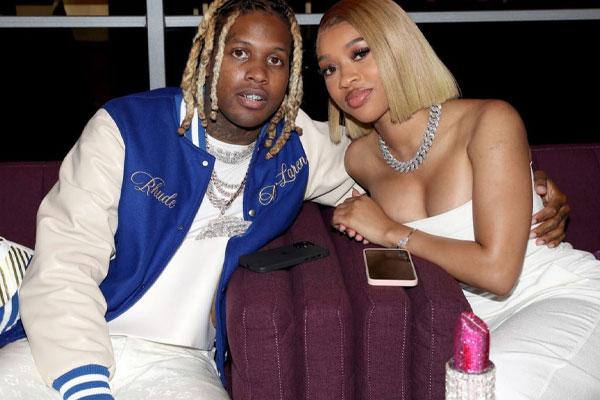 Talking about his personal life, Durk is engaged to India Royale, his long-time girlfriend. In 2017, Lil Durk and India Royale first met each other. Later on 18 December 2021, during WGCI's Big Jam concert in their hometown of Chicago, Durk proposed to Royale in front of everyone.
He literally sat on one knee, holding her hand in front of the massive audience and said I love you to Death.
Some Challenging Moments in Durk's Life
On 31 May 2014, Durk's cousin, professional rapper McArthur "OTF Nunu" Swindle, was murdered. This was a challenging moment for Lil Durk's family.
In Atlanta, Durk's close friend King Von was murdered, and this incident occurred on 6 November 2020. His brother, Dontay "DThang" Banks Jr, was shot dead outside a Chicago nightclub.
On 11 July 2021, a horrific incident occurred in Durk's home. He and his girlfriend had gunfire with the suspect, but hopefully, no one was harmed.
What Legal Issues Durk Faced In His Life
In his life, he faced several legal issues. It was 2011 when he met his first legal issue because of a weapon and was sentenced to three months in jail.
Durk was arrested again on 5 June 2013 for throwing a loaded 40 caliber handgun into his car when the police approached him. He was also charged a $100,000 bond for unlawful use of a weapon, but his lawyer claims that he is innocent. On 18 July 2013, Durk was released from jail.
On 4 September 2015, Durk had a scheduled performance at the Theatre of Living Arts Pennsylvania, which was stopped due to a shootout on his bus. It resulted in one person's death. He was safe and was not even questioned or arrested by police.
Durk's gun charges were cleared on 19 August 2016 because judges decided to drop the charges against him.
On 5 February 2019, outside a famous Atlanta drive-in, a man was shot dead and robbed by two men for a Jeep Cherokee and $30,000. According to prosecutors, those two men were Durk and King Von. Durk was arrested with his friend King Von for their actions. But they were released soon after being in jail for weeks on $250,000 & $300,000 bonds.
Frequently Asked Questions
1. What is Lil Durk's Net Worth?
According to the estimates, his net worth is almost $8 Million.
2. What is Lil Durk's Height?
His height is 5 ft 11 inches, equal to 1.80 meters.
3. When did Durk Release his First Album?
Durk's first music album, "Remember My Name", was released on 2 June 2015.
4. What Happened at the Lollapalooza Music Festival in Chicago?
Durk suffered from several injuries at the Lollapalooza music festival because of explosive pyrotechnics, where he also injured his right eye and face.
5. How Old is Lil Durk?
Durk's date of birth is around 19 October 1992. So as of 2022, he is around 30 years old.
Conclusion
Hopefully, we have provided you with all the information about Lil Durk's net worth. Don't forget to check out some other similar articles on our website, like Chris Rock's net worth.