| | |
| --- | --- |
| Sun Sign: | Virgo |
| Source of Wealth‎: | Professional Model |
| Country of Origin: | Miami, Florida, United States |
| Age‎: | 27 August 1996 (age 26 years) |
| Real Name: | Sophia Rose Stallone |
| Parents: | Sylvester Stallone, Jennifer Flavin |
| Education: | University of Southern California |
| Siblings:  | Sistine Stallone, Scarlet Rose Stallone, Seargeoh Stallone, Sage Stallone |
| Height‎: | 1.7 m |
| Last Updated: | 2022 |
Sophia Rose Stallone: In A League Of Her Own
Childhood
It was a special day in sunny Miami on 27th August 1996 when mega-superstar Sylvester Stallone and Jennifer Flavin welcomed their very first daughter into this world. After having had two boys from his former wife, the Hollywood veteran was excited to hold his tiny baby girl finally. They named her Sophia Rose Stallone; she was all they needed to fill their already blessed lives.
All three Stallone sisters share the middle name 'Rose' and are blessed with good looks. While the family was ecstatic with the newborn baby girl's arrival, they soon discovered that she had a health condition to deal with. Baby Rose was born with a hole in her heart. Her parents were beside themselves when they found out about her condition. It was especially devastating for Stallone, as his younger son Seargeoh is Autistic and has also suffered the massive loss of his eldest son Sage to a heart attack. Sophia Rose underwent a successful open-heart surgery when she was two-and-a-half months old.
This led the couple to cherish their newborn daughter with all their might, leaving no stone unturned to ensure she got the best medical care. Sophia Rose Stallone was well-taken care of from the very beginning and was offered the best health facilities. Her diet was closely monitored and she was devoid of any physical activities to allow her heart to gain its strength with her growing years. On the positive side, this also allowed the young child to grow very close to her father. Being a sensitive soul, Sylvester Stallone doted on his daughter and also read poems to her. Even today, after all these years, Sophia Rose Stallone is the closest to her father.
Having suffered from an altered speech defect from an early stage, Sylvester knew what it felt like to be 'different' from normal. His is an inspiring story of triumph over one's shortcomings and achieving the height of success in life. This helped him assist Sophie Rose Stallone to overcome her illness and emerge as the strong independent adult she is today. She has stated that her father would coach her in speech lessons and also instilled in his children the importance of physical fitness.
Just like any other star kid, Sophia Rose Stallone grew up on Hollywood Boulevard with much media interest surrounding her. She and her half-siblings have grown to share a strong family bond with each other and are known to hang out together as a normal family would.
The Education Background
Much against what was expected of her, Sophia Rose Stallone made it clear that she had no aspirations in the film industry. In fact, despite her childhood illness, the youngster has been quite an achiever. She has had a complete stint in education and has shown immense interest in pursuing higher education. Despite her closeness to her father, the limelight does not appeal to the youngster as much as it should.
Sophia Rose Stallone is a Major in Communication and a Minor in Entrepreneurship and Film for the prestigious University of Southern California. Being the go-getter that she has been from a young age, she has also been a sorority girl at her university. After having completed her studies, the star kid has shown interest in using her degree to pursue a career as a self-made woman. Much like her mother, who is the co-owner of a cosmetic brand, the young girl also wishes to follow in her footsteps.
Her Career
Sophia Rose Stallone is a Hollywood 'heiress' and has the red carpet rolled out to her in more than one way. However, the start kid has not yet grabbed the opportunities and is, in fact, weighing her options properly. She started her career as a model, as she has clearly been blessed with great looks from both her parents. The celebrity kid is playing her cards just right with an influential last name and a legacy to back her up. She is taking it one step at a time in order to be able to 'earn' all the attention that she has already gathered.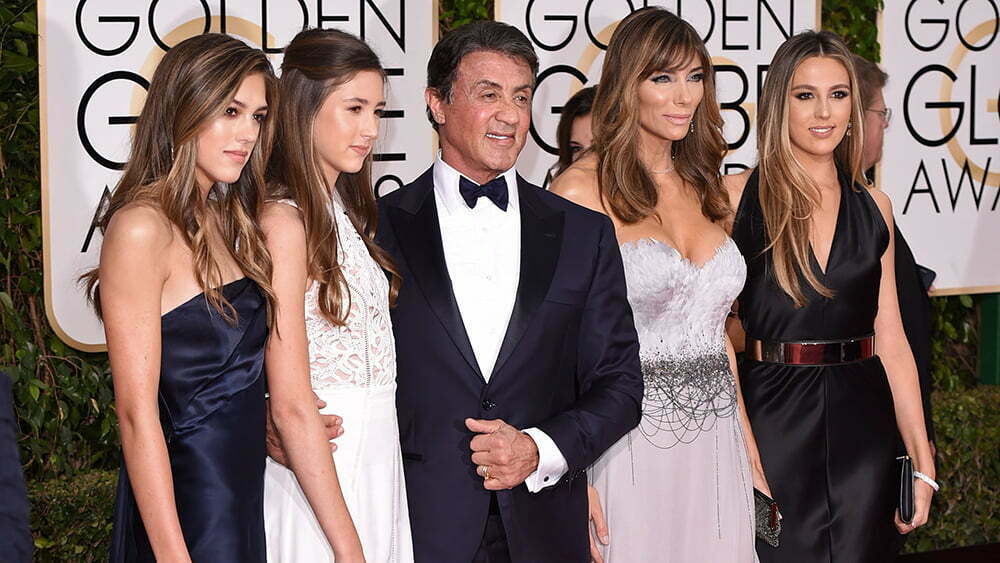 The Stallone sisters were honored with the title of 'Miss Golden Globe 2017' when the world took notice of the stunning trio. While the other two siblings are stars in the making, Sophia Rose Stallone has already established herself in the glamour world. When she graced the covers of 'Harper's Bazaar', the fashion world knew that this teenager meant business. The youngster has quite a following on various social media platforms and has 750K followers on her Instagram account.
However, the budding star has made it quite clear that she needs to pursue her career as an entrepreneur and a model. However, for now, she is trying to find her foothold at the right places and is testing her waters. One could see the confident young star in the 'Late Night Show with David Letterman'. She has also appeared as a guest judge on the popular television show 'Project Runway Client on the Go'. Making herself a sought-after name in the fashion industry, she finally got herself taken seriously after she was made the ambassador for the 2017 Golden Globes. It was a proud moment for her entire family, especially her parents, who have been her constant pillar of support.
Much against the expectations, Sophia Rose Stallone is inspired by her businesswoman-mother. She also aspires to lead a life as an independent woman and wishes to follow in her footsteps to make a name of her own. Jennifer Flavin, who is well connected within the fashion circles, has been a constant 'safety net' for her young daughter and has worked hard to assist her in shaping her career choices. In order to be in the memory of the public, the Stallone sisters are often spotted at various red-carpet events and have made quite an impact. They are closely watched by the paparazzi and are followed by millions of fans worldwide.
Investments
NET WORTH: While the net worth of Sophia Rose Stallone is not yet Undisclosed
Being a star kid has its own benefits. You get to inherit good looks, a powerful last name, and lots of money too! Sophia Rose Stallone is no different, and being the first daughter of the famed Hollywood superstar Sylvester Stallone, she has a lot to inherit.
The mega superstar is a Hollywood veteran and has an estimated net worth of about $400 Million. Sylvester Stallone is not only a successful movie star but also a screenwriter, producer, and director who is still very much in demand today. With his towering height and good looks to go by, the talented star rose to fame with 'Rocky'. This was followed by the franchise 'Rambo', which made him a household name. Even in the current times, he has seen success with 'Cliffhanger', ' Assassins', 'The Guardians of the Galaxy' and 'Creed', to name a few. This has led to him being one of the highest-paid actors in Hollywood.
With his millions, his various homes, cars, and business ventures, it is obvious that the Stallone kids are sure to be well taken care of in terms of their inheritance. Sophia Rose Stallone's net worth has not been disclosed as of yet, but she is sure to inherit from both her parents. As of now, the young celebrity kid is a star in the making. She has successfully set out to explore the various aspects of films and media. She and her sisters can be easily spotted at various red-carpet events and have made quite a large fan following for themselves. With a successful modeling career, social media presence, and various film and television appearances, the young star also makes her own wealth. This has all added to her already large asset and she still has a long way to go.
Facts to know about Sophia Rose Stallone
Below are some latest news or updates on Sophia Rose Stallone.
1. Sophia Rose Stallone got his father back, Sylvester Stallone, while shooting Tulsa King in NYC.
For her father, Sylvester Stallone, Sophie has always been his source of pride and bravery since she was born.
And having a shoot in New York City is like a family for her father. That's why when Sophia was filming the upcoming Paramount+series Tulsa King in Brooklyn, NYC, Sylvester Stallone got a visit on the set to spend some time with his daughter.
Stallone took to Instagram, shared some photos from the set, and revealed in the caption that he had a great time on the set of Tulsa King with his 25-year-old daughter, Sophia Rose Stallone.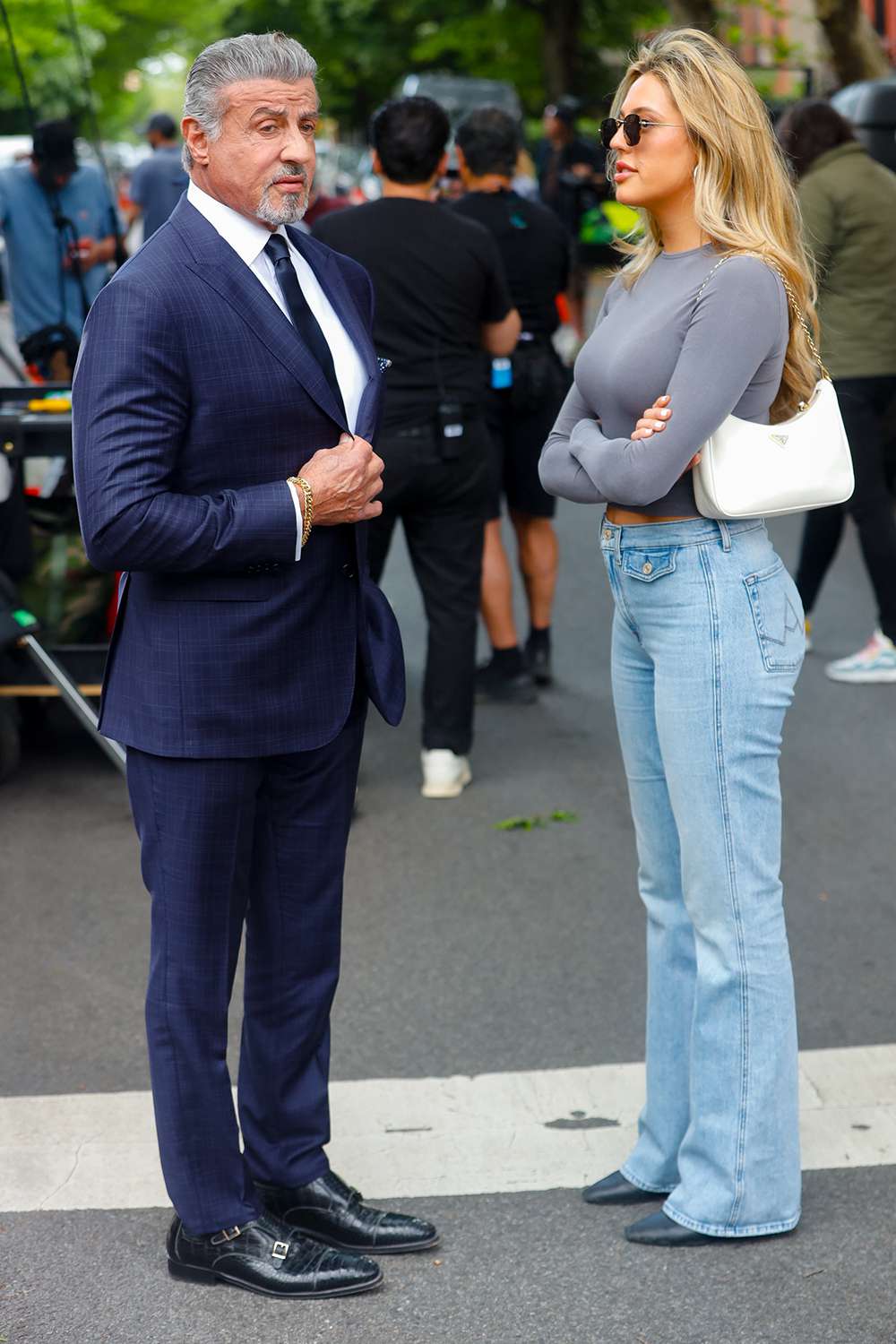 They both got clicked in front of the brownstone where the shooting occurred, with Stallone wearing a dark blue suit in a complete character of Mafioso Dwight's "The General Manfredi", as you can see in the above picture.
Stallone also revealed that his 25-years old daughter Sophia and her younger sister Sistine and Scarlet had been in the town to begin shooting for a reality show.
However, during his daughter Sophia's birthday last year, Stallone thanked her for being a source of pride and bravery for him since she was born.
Talking about the movie Tulsa King, Sylester's starring character Rambo turns into a small screen character Manfredi who is a mob member.
Terence Winter and Taylor Sheridan are the creators of the series, and it is going to premiere later this year in November.
2. Sylvester shared thoughts about his daughter's dating
As we all know, before dating Jennifer Flavin, Sylvester was married twice, first to Sasha Czack and second to Brigitte Nielson. He has two sons with Sasha, Sage, and Seargeoh. In 1996 while dating, Sylvester and Jennifer welcomed their first daughter Sophia Rose Stallone.
In the same year, they both decided to get married also. After two years, they welcomed a second daughter, Sistine, and Scarlet Rose Stallone was born four years later.
In 2010, during an interview with The Sydney Morning, Sylvester joked that everything in his house is now female, including the toys, the housekeeper, and all the dogs.
But he also mentioned that he was enjoying this feeling and learned from his wife, Jennifer, that he never learned from any other. When Stallone's daughters were in their teens, Stallone made the news that he banned them from dating until they were in their 40s.
But he realized that he was going to have a hard time with his daughter dating when he knew that a boy was dating Sophia Rose Stallone. Stallone explained that he wasn't going to be an accepting father after a boy called up Sophia.
But Sophia didn't bother and brought her 18-year-old boyfriend home to meet him. Stallone and the boy shook hands, and there was a hand-squeezing battle that Stallone won.
Stallone had to say no to him because he needed to learn to squeeze the hand harder than him.
3. Stallone helps his daughter in breaking up with Guys
During their podcasts Unwaxed, Sophia and Sustine opened up about their dad Sylvester Stallone who sometimes helps them to break up with the guys. He also used to give them dating advice.
During an interview with Hollywood Life, Sistine said her father gave them the best dating advice. She mentioned her father, Stallone used to tell them what to say if they didn't know how to answer a guy's text.
Stallone also gives them the best advice on how to break up with a guy. The daughters don't have any idea how many guys have broken up with them through Dad. Stallone is not only the one who interferes in their daughter's love life.
Calvin and the youngest sister also do the same. Sistine explained that if you're dating one of us means you're dating the entire family. In this case, you must take the whole family's approval. Or you can't even come home.
You can be a stand-up guy if you successfully get all four yeses across the board. She also mentioned that there is nothing like this; if you don't do this, you'll not pass the test. We're the most fun, casual, and loving family.
However, in their podcast, the daughters also revealed that they had dated since lockdown and talked about their endeavors. They both mentioned what type of guy they were interested in.
View this post on Instagram

Sistine Stallone mentioned that she wants someone good in conversation who is intellectual and can teach her things. She loves to date a humorous guy because she also has a dry sense of humor.
On the other hand, Sophia Stallone also shared her thoughts that she is looking for someone who can watch Harry Potter with her. She wants someone who can't be cool all the time, likes to have fun, and doesn't take themselves too seriously.
Awards
Still young, Sophia Rose Stallone is surely made a name for herself. She is one of the young star kids to watch out for and has made a name for herself. She has made various television and film appearances and has made it quite clear that she is here to stay. Yet to win awards. However, the star kid has made some memorable impacts:
Entertainment TV- 2017-2018
Project Runway- Judge- 2017
Dolce & Gabbana- 2017
74th Golden Globe Awards- Ambassador
Access Hollywood- TV Series- 2016
Golden Globe Arrivals Special- 2016
Inferno: Making of the Expendables- 2010
Late Show With David Letterman- 2010
The Contender-2005
While the above are a few in a long way to go, Sophia Rose Stallone is already a star. Today, she has an active social media presence with over a million Instagram followers. She has also made a name for herself in the modeling industry and has appeared on the covers of various popular fashion magazines. She also has her own website and blog,  where she shares her beauty tips, fitness routines, fashion tips, wellness tips, etc.