Erika Casher, a Tennessee Cigna nurse, was fired after her video went viral on social media in which she was caught laughing at a young man talking about his grandmother's death from Covid-19 at a Rutherford County School board meeting.
Want to know what is the real story behind the incident? I'm sure you do. Continue reading the article to know everything about Erika Casher and the social media tragedy that happened to her.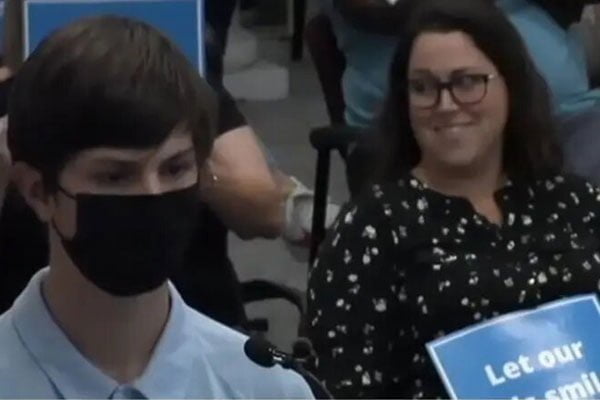 Who is Erika Casher
Erika Casher is a 36-year-old nurse by profession. She is from Murfreesboro, Tennessee. There is no more information regarding her personal life and family. If we talk about her professional life, she was a registered nurse at Cigna.
Cigna is an American healthcare and insurance company. The company was founded in 1982 and is located in Bloomfield, Connecticut. It is known for offering medical and healthcare products such as life and accident insurance for United States citizens.
In 2021, Erika was fired from Cigna for laughing at a student who told a sad story of how her grandmother died while fighting against Coronavirus at a Rutherford County School board meeting.
Why was Erika Casher Tennessee Cigna's Nurse Fired?- Real Story
It was the day of a board meeting at Rutherford County School in which the topic of discussion was mask mandates in schools due to Covid-19. Erika Casher, one of the registered nurses in Cigna, was also attending the meeting.
Everyone in the meeting believed that wearing masks in schools would help to prevent the spread of Covid-19 in students. However, Erika was against the mask mandates in the schools.
But the story doesn't end here. The real story starts when a young boy named Grady Knox comes on the stand to share his grandmother's death from Covid-19. While sharing his story, Erika and one of her colleagues were caught laughing behind the seats.
Murfreesboro, Tennessee:

The two women behind this young man — laughing at him erring on the side of caution makes me super sad… pic.twitter.com/WaANNVsM6O

— Rex Chapman🏇🏼 (@RexChapman) September 8, 2021
However, the incident became the subject of a social media firestorm when a video of Erika Casher laughing at a boy was posted on Twitter from Rex Chapman with more than 1 million followers.
Until then, Rex doesn't know the woman's name; that's why he posted a video and wrote that the two women laughing at this young boy made him super sad. Erika was identified by a famous sports and political commentator, Keith Olbermann.
He asked some questions to Cigna, where Erika was working as a registered nurse, why is your employee laughing at this grieving young man? And after this incident, why still is she your employee?
Hey @cigna, why is your employee Erika Casher laughing at this grieving young man who is 10 times as smart and 10000 times as human as she is? And why is she still your employee? #BoycottCigna https://t.co/YLxukoCjed

— Keith Olbermann⌚️ (@KeithOlbermann) September 8, 2021
With these questions, Keith also added a hashtag #BoycottCigna. The Twitter post became a firestorm on social media and got millions of views.
Was Erika Casher Really Fired from Cigna?
After this incident, there was anger in the audience toward Erika Casher, so she decided to delete her social media profiles. Now, it becomes difficult to identify whether she is still working at Cigna or not.
On the other hand, Cigna also hasn't posted anything related to Erika. Recently, they showed support to the families of fallen healthcare workers who lost their lives in Covid-19 by running a hashtag, #BraveofHeartFund.
The #BraveOfHeartFund aims to support families of fallen health care workers who lost their lives in the fight against #COVID19. Click to learn more about applying for a charitable grant to get the financial support you need. https://t.co/dYUeY3bzin pic.twitter.com/nVpHLKqcaJ

— Cigna Healthcare (@Cigna) September 9, 2021
However, many news channels reached out to Cigna to ask whether Casher had been fired or not, but no one received the correct response. Some rumors emerged that an acquaintance working with Cigna confirmed the Tennessee Cigna nurse fired news.
A woman wrote on Twitter that one of the Cigna workers has confirmed that Erika Casher Cigna has been fired from the company. However, the tweet also circulated on Reddit. But still, there is no verification around it.
What was Grady Knox seen trying to speak in the video?
In the board meeting, the young man was trying to explain the importance of wearing masks in schools. He started by telling the sad story of her grandmother, a former Rutherford County Schools teacher, who died of Covid-19 because someone wasn't wearing a mask.
Grady also mentioned that he is worried about his family. If he gets Covid, it will become a threat to his whole family, especially his grandparents. Due to old age, his grandparents are at higher risk than him.
So, he doesn't want to risk their lives. Then Grady starts talking about her grandmother, how she died fighting against Covid-19 because someone wasn't wearing a mask in the school. He also mentioned that this would be going to continue like this only if we don't mandate masks in schools.
It is also going to be riskier for the students. According to a study, contact tracing was higher among students in 2021, and if they contact a Covid patient, they have to miss at least a week of school.
That can be a week when the teacher is going to explain something important. Grady mentioned in his speech that contact tracing could be avoidable after making it mandatory to wear masks in schools.
We must understand that not wearing masks will risk thousands of children's lives. However, it is very irresponsible if we're not taking it seriously. Grady Knox ended his speech by saying this should be taught to the students for educational purposes, and thank you.
How people reacted to the Erika Casher video laughing at a young boy sharing his grandmother's story
Erika Casher laughed at the point when Grady Knox started telling about how his grandmother died of Covid-19 because someone wasn't wearing a mask in the school. The first person who reacted to Erika's laugh was Keith Olbermann.
Keith identified the laughing woman as Erika Casher and added the caption asking Cigna why they are not firing their employee laughing at the grieving young man. Also, he ran a hashtag named #BoycottCigna.
His post got millions of views, and almost everyone became against Erika Casher Cigna. People favor Keith, claiming that Erika should be fired from Cigna. Many news channels were also in favor of Keith's claim.
A woman named Sara Elizabeth Austin also shared her thoughts on the incident. She shared Erika's video on Facebook and added a caption saying a young man who lost his grandmother to Covid-19 explains why a mask mandate is a good thing.
Cigna also faced a series of criticisms due to Erika Casher's irresponsible behavior. One of the nurses in Cigna mentioned that if an Erika-type person is reviewing medical claims in Cigna, I've decided to leave the company.
.@Cigna, is this how your employees support families who have lost loved ones to COVID-19… by laughing at their grief? pic.twitter.com/YUm4HEs8lt

— PWtham11 (@pwtham11) September 9, 2021
A person targeted Cigna by claiming that laughing at grief is how your employees support someone who has lost loved ones.
The Young Boy, Grady Knox shared his thoughts: He doesn't understand why Erika Casher reacted to his statement that way
During an interview with CNN, Grady Knox shared that he does not even understand how a person can laugh at someone whose grandmother has died. He mentioned that he was making such a personal statement and how a person could react to it like that.
In the Rutherford County Schools board meeting, he got the chance to speak in front of the nation about how important it is to mandate masks in schools.
A Tennessee high school student was speaking at his district's school board meeting to advocate for masks in schools when adults laughed at him as he talked about his grandmother who died of COVID-19. pic.twitter.com/gxW6CYN5n0

— CBS News (@CBSNews) September 10, 2021
One of the renowned news channels, CBS News, also came to Twitter and spoke about the incident. They say a student was speaking about how important it is to mandate masks in schools and adults started laughing at him as he talked about his grandmother, who died of Covid-19 because someone was not wearing a mask.
Why does the Tennessee Cigna Nurse Fired incident matter the most
Erika Casher was the only person to laugh at his speech, holding a board, letting our kids smile, and sitting right behind the young boy talking about his grandmother. But it was not valid. If we clearly watch the video, we'll be able to see Erika looking at someone before laughing.
There seemed to be one more woman sitting beside her, laughing. It also appears that they both were in a conversation that caused them to laugh. But Erika deserves to become a center of a contentious controversy because
She is a mother of school-age kids
She is mature enough to listen to someone's opinion even if she disagrees with his statements.
Erika is a health worker who saves millions of people's lives.
Grady Knox showed his maturity as a child by telling the importance of the mask mandate in schools. On the other hand, Erika Casher showed a face of immaturity with her irresponsible behavior.
Erika was declared vilest, rudest, and anti-masker. Her behavior represents a wrong public dialogue surrounding Covid-19 and precautions to prevent its spread.
She is completely staggering the statement about how effective it is to wear a mask even if you're vaccinated.
Erika is also disrupting that young man who dared to speak in front of the nation about their concerns because one of his loved ones has died of Covid-19. However, almost everyone has lost someone to Coronavirus.
If someone is doing their best to prevent the spread of the Coronavirus by wearing a mask, staying home, and getting vaccinated, they are not doing it for immature and selfish people like Erika who laugh and act like a fool on someone's death.
However, I'm not a doctor or an expert in the medical field. But still, I know what best I can do to protect myself and my family from Covid-19. I'm 99% sure that there are millions of people like Erika Casher worldwide.
And if people like Erika don't strongly dislike the mask mandate and other preventions, I'm sure we might have made progress in fighting against Covid-19. We've lost a few lives.
Frequently Asked Questions
1. Why was Erika Casher not in favor of wearing masks in schools?
Erika believes that masks are going to take away our individual liberties.
2. Who identified the woman in the video laughing at the young man, Grady Knox, as Erika Casher?
Keith Olbermann, having one million followers on Twitter, identified the woman as Erika Casher.
3. What was Grady Knox sharing in the Rutherford County Schools board meeting?
Grady Knox shared how his grandmother, a former Rutherford County school teacher, has died fighting against Covid-19. He also mentioned it is essential to mandate masks in schools so that no one else loses their loved ones.
Wrapping up
We hope the article has enough information regarding the Tennessee Cigna Nurse fired. However, there is no confirmation yet about the termination of Erika Casher.
We don't need health workers like Erika who make fun of someone's lost loved ones and are against wearing masks to prevent Covid-19. These types of people are a threat to others and themselves also.
Keep following Enroute to read more much-discussed social media stories like this!