When it comes to fashion, finding the perfect dress for a special occasion can be a thrilling experience. And if you've chosen a light blue floral dress, you're already on the right track. Light blue is a color that exudes tranquility and elegance, while floral patterns add a touch of nature's beauty to your ensemble. To complete your look and achieve flawless beauty, your makeup should enhance the dress without overpowering it.
In this article, we'll explore six makeup tips to complement your light blue floral dress and make you feel like the bell of the ball.
Natural-Looking Foundation and Concealer
The key to a beautiful makeup look is starting with a flawless base. Begin by selecting a foundation and concealer that matches your skin tone perfectly. When wearing a light blue dress, you want your complexion to look radiant and natural, so opt for a lightweight, buildable foundation that evens out your skin tone without looking cakey. Blend it evenly over your face and neck, ensuring there are no harsh lines.
The concealer comes to the rescue to cover any blemishes, dark circles, or redness. Be sure to use a concealer that's a shade or two lighter than your foundation to brighten up the under-eye area and highlight your facial features. Blend it well, and set your base with a light dusting of translucent powder to prevent shine throughout the day or night.
Subtle Eye Makeup
When you have a light blue floral dress as the centerpiece of your outfit, it's essential to keep your eye makeup soft and complementary. Opt for neutral eyeshadow shades like soft beige, light brown, or champagne to create a subtle, natural look. These colors will enhance your eyes without distracting you from the dress's beauty.
Consider adding a touch of shimmer to the inner corners of your eyes to make them appear brighter and more awake. For a bit of definition, apply brown or taupe eyeliner along your upper lash line, keeping the line thin and close to the lashes. Finish with a coat of mascara to lengthen and volumize your lashes for a wide-eyed look.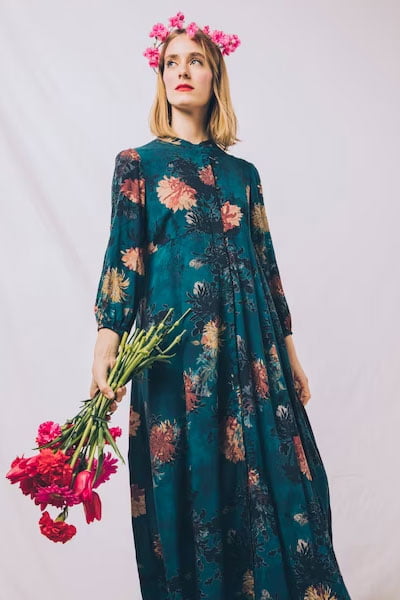 Soft Blush and Highlighter
To achieve a fresh and youthful appearance that complements your light blue dress, blush and highlighter are your best friends. Choose a soft, rosy blush that mimics the natural flush of your cheeks. Smile and apply the blush to the apples of your cheeks, blending it gently upward towards your temples.
A highlighter adds a beautiful touch of luminosity to your face, making your skin appear radiant. Apply a pearlescent highlighter to the high points of your face, such as the tops of your cheekbones, the bridge of your nose, and your cupid's bow. This will give you a subtle, ethereal glow that pairs beautifully with the delicate colors of your dress.
Natural Lips
With a light blue floral dress, it's best to keep your lip color soft and natural. Nude or pink shades are excellent choices that won't fit your outfit. Begin by exfoliating your lips to ensure a smooth canvas. Then, apply a nude or rosy-pink lipstick or lip gloss that complements your skin tone.
For added dimension and fullness, you can use a lip liner that matches your natural lip color to define the edges. Blot your lips with a tissue to remove any excess product, and you're ready to go. Natural lips will balance your overall look, allowing your dress to take center stage.
Defined Brows
Well-groomed eyebrows can frame your face and complete your makeup look. Use a brow pencil or powder that matches your natural brow color to enhance your brows without making them too dramatic. Follow the natural shape of your brows and fill any sparse areas with light, feathery strokes. Also, try to put on effortless eye makeup.
If needed, set your brows in place with a clear brow gel to keep them looking neat and polished throughout the day or night. Defined brows will add a touch of sophistication to your overall appearance, making you feel confident and put together.
Setting Spray
To ensure your makeup stays in place and looks fresh all day or night, finish your look with a setting spray. A setting spray not only locks in your makeup but also helps to meld all the products together for a seamless finish. Choose a setting spray with a dewy or natural finish to maintain that radiant glow.
After applying your makeup, hold the setting spray at arm's length and mist it evenly over your face. Allow it to dry naturally, and you'll be amazed at how it extends the longevity of your makeup, keeping you looking flawless from morning to evening.
Lastly
In conclusion, when you've chosen a beautiful light blue floral dress for your special occasion, your makeup should complement rather than overshadow it. These six makeup tips, including a natural-looking foundation, subtle eye makeup, soft blush and highlighter, natural lips, defined brows, and a setting spray, will help you achieve flawless beauty that perfectly enhances your dress. Remember, the key is balance – let your dress shine while looking effortlessly gorgeous yourself. With these makeup tips, you'll be the epitome of elegance and charm, turning heads and leaving a lasting impression wherever you go.