American outlaw biker Ralph Hubert Sonny Barger, Jr. lived from 8 October 1938 until 29 June 2022. He was also a novelist and actor. The 83-year-old Modesto native was a founder of the Oakland, California, Hells Angels Motorcycle Club chapter. He appeared in movies, television shows and published five books.
In this article, we will talk about Sonny Barger's death and his funeral. Other than that, we have also mentioned some questions related to his life. Without wasting any time, let's begin with our article.
Who was Sonny Barger?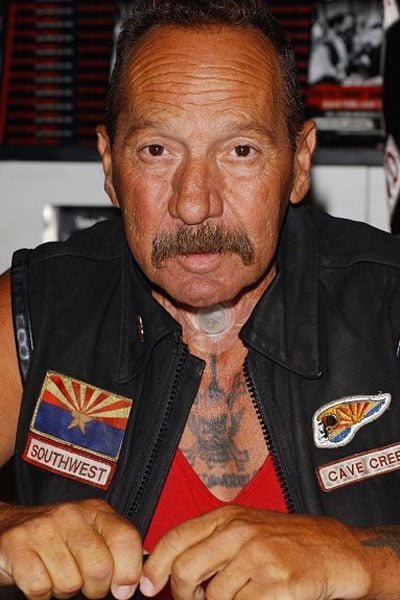 | | |
| --- | --- |
| Full Name | Ralph Hubert "Sonny" Barger, Jr. |
| Professional Name | Sonny Barger |
| Date of Birth | 08-Oct-38 |
| Birthplace | Modesto, California, United States |
| Death date | 29-Jun-22 |
| Death place | Livermore, California, United States |
| Age at the time of his death | 83 years |
| Nationality | American |
| Ethnicity | Mixed |
| Gender | Male |
| Sexuality | Straight |
| Religion | NA |
| Zodiac Sign | Libra |
| Spouse | Zorana Barger (2005-2022) |
| Height | 6 Feet 1 inches |
| Weight | 62 Kg |
| Profession | Outlaw Biker, Crime Boss, Author, Actor |
| Net Worth | $500 Thousand |
In 1957, Ralph Hubert "Sonny" Barger, Jr., an American outlaw biker, founded the Oakland, California chapter of the Hells Angels Motorcycle Club. He passed away on 29 June 2022. After starting the Oakland chapter, Barger played a crucial role in bringing together several disjointed Hells Angels chapters and officially establishing the organization in 1966.
He became the Hells Angels' most well-known member during the counterculture era and was constantly accused of being the club's president by law authorities and the media. Barger was referred to as "the Maximum Leader" of the Hells Angels by the writer Hunter S. Thompson, while Philip Martin of the Phoenix New Times labeled him "the archetypical Hells Angel," claiming he "didn't found the motorcycle club… but he constructed the myth."
Served in Prison for 13 years
For heroin trafficking in 1974, and a conspiracy to bomb the clubhouse of a rival motorcycle gang, the Outlaws, Barger served in prison for 13 years. In 1972, he was also acquitted of murder.
As an organized crime syndicate, he refused accusations from law enforcement characterizing the Hells Angels. He said the club should not be held accountable for the actions of individual members.
How Did Ralph Hubert Sonny Barger Die?
In his Facebook message, Sonny stated that his cause of death was cancer, which he had battled since the early 1980s. Due to stage three laryngeal cancer, he underwent a complete laryngectomy in 1983, severing both vocal cords; he eventually learned to vocalize via his esophagus.
The Hells Angel underwent an additional operation to have his prostate removed years later, in 2012 and was subsequently deemed cancer-free. It was reported that Barger had died "peacefully" on 30 June 2022, following a "brief battle with cancer."
When and Where was Sonny Barger's Funeral Held?
Barger's funeral was held at the 99 Speedway on North Wilson Way in Stockton, California, on 24 September from 2 to 8 pm. Fox News reports that San Joaquin County Sheriff Pat Withrow cautioned attendees at a press conference on Friday that there may be violence during the burial.
To safeguard the general public's safety from violence or danger due to this event, Withrow remarked, "I am bringing in significant resources." The San Joaquin County Sheriff's Office had warned about potential threats the day before Barger's funeral.
Withrow said that the community security cost the California Highway Patrol, among a host of other organizations, millions of dollars and that the program cost his department $400,000 to provide. He said they were concerned about what might occur after the funeral.
Frequently Asked Questions
1. When did Sonny Barger Found the Oakland Chapter motorcycle Group Hells Angels?
In 1954 and 1957, respectively, the club established chapters in San Francisco and Oakland. In 1961, it began operations in New Zealand.
2. At what Age Sonny Barger Died?
Sonny Barger, the founder of the Hells Angels and a well-known author, died at the age of 83.
3. How Many People Gathered at Sonny Barger Hells Angels' Funeral?
On Saturday, 24 September, between 2 and 8 pm, 7,000 people are said to have assembled at the 99 Speedway on North Wilson Way to attend Barger's burial.
Wrapping Up
Thousands of people attended Ralph "Sonny" Barger's funeral, which was held at the Stockton 99 Speedway. He was a notable novelist and outlaw motorcyclist with a large personal following. Hopefully, you found everything you were searching for at the funeral of Sonny Barger.