Summary
Sweet Magnolias' writers confirmed Sweet Magnolias will come back for a third season on their Twitter handle.
Unfortunately, there is no release date for Sweet Magnolias season 3 announced by the makers yet.
During an interview with Glamor, Anderson said unlike season 3, more than one issue needs to be answered in season 3.
The upcoming season is believed to be an intriguing season, JoAnna Garcia Swisher said in an interview.
Fans are eager to know whether Helen gets married to Ryan in season 3 or not.
It's been a long time since we've heard anything about Sweet Magnolias season 3, but now we can finally update fans on important information regarding the next Netflix original series. 
On 4 February 2022, the very successful series finally returned with a season 2 after a more than two-year break. Now, fans are looking forward to season 3 and what comes next that they've caught up with the titular trio.
The Sherryl Woods-based romantic drama series made its Netflix premiere in May 2020 and became an instant smash with those searching for a feel-good binge-watch. Much of the same can be found in season 2, with an incredible ending that will leave you wanting more. 
A Quick Info Regarding Sweet Magnolias Tv Series
Total Number of Seasons
2
Total Number of Episodes
20 episodes
First Episode Date
19-May-20
Last Episode Date
04-Feb-22
Genre
Romantic
Drama
Country of Origin
US
Language
English
Based On
Sweet Magnolias books by Sherryl Woods
Developed By
Sheryl J. Anderson
Producers
Matt Drake
Albert T. Dickerson III
Executive Producers
Sherryl Woods
Sheryl J. Anderson
Dan Paulson
Production Companies
Daniel L. Paulson Productions
Running Time
43-54 minutes
Streaming Platform
Netflix
Will the Sweet Magnolias Season 3 Be Happening?
We're going back to Serenity, y'all! 🌸 We are so thrilled to share we have a Season 3 of Sweet Magnolias. Can't wait to welcome y'all home. pic.twitter.com/cHIyCp0XGt

— Sweet Magnolias Writers (@swtmagnoliaroom) May 4, 2022
On Twitter, the Sweet Magnolias writer's room confirmed the filming of season 3 has begun. They posted a video with a poster of the series saying Get Ready more Magnolias. They added a caption. We're so thrilled to announce that Sweet Magnolias is renewed for a third season. 
It's fantastic that they announced the next season quickly. We waited more than two years for season 2, and we began assuming that we also have to wait this long for season 3. But thankfully, it is not like that this time.
Will there be a Season 3 of Sweet Magnolias?
As previously stated, the third season has already begun. It has been confirmed by the Sweet Magnolias writers through their Twitter handle.  
After season 1 of Sweet Magnolias ended in May 2020, the second season of the series was released in February 2022. Thus there was a pause of around two years. Thankfully, season 3 might be available on Netflix shortly, with filming wrapping up in mid-October.
It's interesting to note that, according to What's on Netflix, a press release announcing Jermain Rivers as a new cast member of the series stated that season 3 of the show will premiere in the spring of 2023. 
Sweet Magnolias has yet to be released in the spring, to our knowledge. It was missing from the list of new series arriving in March 2023; therefore, season 3 may appear in April at the very earliest. 
So, we came to the conclusion that there's a strong probability that the upcoming season 3 will release in the spring of 2023. However, it's still being determined if they will do so in April. Even if there was no press statement, it is when we anticipate the season to begin.
Who are the Cast Members of Sweet Magnolias Season 3?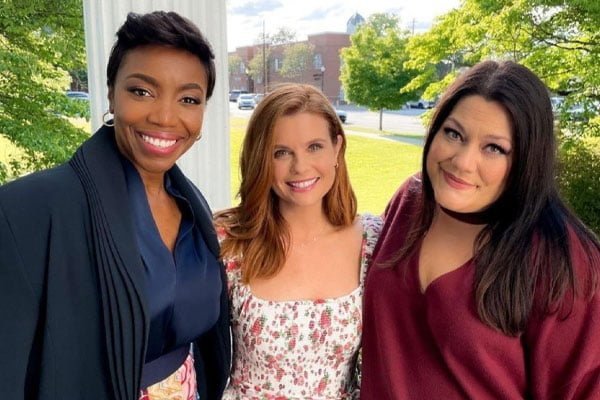 We shared who we expect will be in the season 3 cast below.
| | |
| --- | --- |
| Cast | Played As |
| JoAnna Garcia Swisher | Maddie Townsend |
| Brooke Elliott | Dana Sue Sullivan |
| Justin Bruening | Cal Maddox |
| Anneliese Judge | Annie Sullivan |
| Logan Allen | Kyle Townsend |
| Chris Klein | Bill Townsend |
| Heather Headley | Helen Decatur |
| Carson Rowland | Tyler Townsend |
| Brandon Quinn | Ronnie Sullivan |
| Dion Johnstone | Erik Whitley |
| Brittany L. Smith | Peggy Martin |
| Sam Ashby | Jackson Lewis |
| Harlan Drum | Caroline |
| Bianca Berry Tarantino | Katie Townsend |
| Caroline Lagerfelt | Paula Vreeland |
| Frank Oakley III | Harlan Bixby |
| Michael May | Simon Spry |
| Michael Shenefelt | Ryan Wingate |
| Simone Lokhart | Nellie Lewis |
What is the Storyline of Season 3 of Sweet Magnolias?
Season 2 ended with Helen, Maddie, and Dana Sue mourning Miss Frances' departure. After the funeral, we see an unexpected occurrence that includes a proposal and a fight in the restaurant, resulting in Cal being handcuffed. 
Also, we know that someone went back after the primary trio viewed a video of Sullivan's delivery van's tires being cut. Season 2 was difficult for Helen, who experienced several horrific incidents that ended with Ryan proposing to her. 
The choice she makes will signal the start of season 3. After season two ended, Sheryl J. Anderson addressed many pressing queries in an interview with TVLine.
Anderson also hinted that Victoria might potentially make a comeback and that other troublemakers might follow suit. The connection between Dana Sue and Anderson was also discussed, and Anderson predicted that the three-way tango would remain challenging.
In an interview with Glamor, Anderson said that unlike season 2, more than one issue needs to be answered moving into the third season. She said she hope the main question that everyone has at the end of the second season is: There would be a season three.
I believe it will be an intriguing season, and JoAnna Garcia Swisher said in a December 2022 interview with Rama's Screen as she previewed the upcoming season. It will include all the elements that made Sweet Magnolias so beloved.
When asked about Cal and Maddie's relationship prospects, Swisher replied, That moment sets off a journey individually for them that is important and essential for them having a chance to be together.
Will Helen get Married to Ryan in Season Three?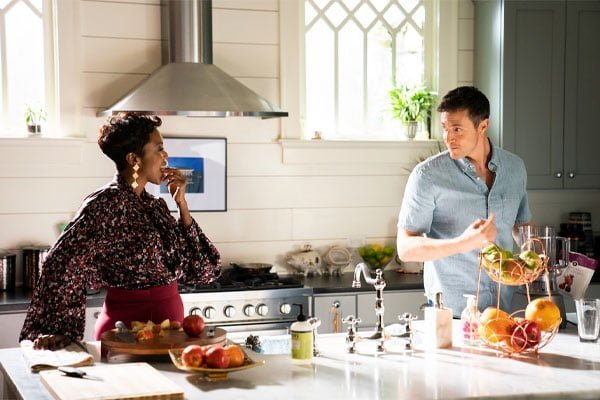 Fans are eager to find out how Helen, Erik, and Ryan's love triangle will play out in addition to seeing Kathy wreak havoc on everyone's life. Ryan is still unaware that Helen was pregnant and that they had a miscarriage. Since their relationship has been on-again and off-again for years, we are unsure if Helen will accept the proposal.
Headley claims she has yet to determine who Helen will select. She told TV Line she doesn't know, and that was the scary part. She has this thick sludge of a relationship, so sometimes she believes it's Ryan. Since they were little, they have been in love with one another. Each time they parted ways, they immediately reconciled. 
Frequently Asked Questions
1. When Does Sweet Magnolias Return?
It has been confirmed by the series' writers that the series will return for a third season. But they haven't announced any exact release date yet. 
2. Is There any Released Trailer for Sweet Magnolias Season 3?
It may take some time to receive a season three trailer. We have to wait until officials announce the release date of the upcoming season. 
3. Where was Sweet Magnolias Filmed?
Although the story of Sweet Magnolias is set in the tranquil southern town of Serenity, South Carolina, the show is shot in the charming central area of Covington, Georgia. 
4. Who is the Crazy Person Who Cut Dana Sue's Tires?
The mystery woman first appears in the season 2 finale when she confronts Annie after an unexpected encounter and calls Dana Sue a homewrecker. This statement suggests the woman and the Magnolias had a tense relationship.
The episode's credits reveal the woman's name is Kathy. Ty later shows his mother a photo from the Serenity Secrets Instagram account that depicts her cutting the tire of one of Sullivan's delivery trucks.
It is revealed that Kathy is a person from their past who appears to have it out for Dana Sue in particular, even though Maddie, Helen, and Dana Sue cannot explain the context of their connection.
Wrapping Up
Sweet Magnolias season 3 is highly anticipated by fans and is expected to continue the heartwarming stories and relationships that have made the show popular. The upcoming season is sure to deliver even more drama and romance. 
While there is no release date announced by the officials yet, you can look forward to more updates in the coming days. Until then, check out other informative articles on our website.